31 DAYS OF DEEP CREATIVITY
WITH ZOË DEARBORN
"Inside you there's an artist you don't know about… say yes quickly, if you know, if you've known it from before the beginning of the universe."
- Jalauddin Rumi
A self-paced creative intensive, with weekly downloadable lessons, assignments & audio meditations as well as daily prompts that you can complete in your own time and then share in the private Facebook Group.
Basic Package & Deluxe Coaching Packages available.
BASIC PACKAGE
$150
What's Included?
-DAILY PROMPTS & INSPIRATION
-ACCESS TO PRIVATE FORUM
Connect with a creative community, receive encouragement & feedback from Zoë
-4 WEEKLY DOWNLOADABLE LESSONS
(Audio meditations & PDF worksheets)
Deep & fun assignments to help you access your creative dreams, blocks and inspiration
DELUXE COACHING PACKAGE
$350
What's Included?
BASIC PACKAGE PLUS:
- TWO ONE HOUR COACHING CALLS
Receive individualized intuitive guidance from Zoë. Support, additional assignments, project planning, and feedback for your work
- 4 COACHING EMAILS
Receive focused feedback on your work, your process or your project planning
WHAT IS 31 DAYS OF DEEP CREATIVITY?
It's a 31 day intensive course, creative challenge & artist support group designed to help you bust out of your current rut and awaken you to your deepest creative dreams and soul's callings.
FOR THE MONTH
OF OCTOBER 2019
YOU WILL:
COMMIT
to a daily creative practice that you will be held accountable for
RECEIVE
daily prompts, feedback & support in the Facebook Group
OPEN
up your creative dreams and receive support, guidance & feedback
LEARN
from four downloaded (audio & pdf) lessons which you can reuse forever
The audio and pdf courses are designed to guide you into your inner knowing and soul's purpose with prompts and assignments to help you move through the most common creative blocks
BY THE END OF THE MONTH YOU WILL:
Feel inspired and awakened to your own creative flow

Have a deeper understanding of the blocks to your creativity and have the tools with how to work with those blocks on your own

Have a clear plan of action moving forward on a particular creative project of your choice

WEEKLY LESSONS
4 AUDIO & 4 PDF DOWNLOADS
The interactive lessons can be done at your own convenience, but I recommend that you complete each lesson by the end of the week as it will better prepare you for following week's lesson.
Each week, you will download the materials to play on headphones and print the PDF. Set aside a 2 hour time slot where you won't be disturbed, pick a quiet spot and gather your supplies for drawing and writing. I highly recommend, also, that you get yourself an 8.5 x 11 blank journal (no lines please!) to use for the month. You can do most of the assignments in your journal.
Downloaded Lessons Include:
Guided Meditation with relaxation & visualization

Art Journaling, Art Therapy or Creativity Coaching assignments based on your visualization

Additional guidance, questions, advice or tools to help keep you engaged & inspired
Each week the lessons & the prompts will focus on a theme:
COMMITMENT TO YOUR INNER CHILD & YOUR CREATIVE DREAMS
WORKING WITH THE INNER CRITIC & OTHER BLOCKS
DEVELOPING YOUR ARTS PRACTICE & SKILL BUILDING
PLANNING YOUR CREATIVE PROJECT & NEXT STEPS
CREATIVITY & ART COACHING WITH ZOË
To my coaching work, I bring more than ten years of experience teaching, counseling & coaching artists, a Master's in Counseling Psychology & Expressive Arts Therapy and deep training and lifelong experience as a writer, dancer, musician, photographer and actor.
If you sign up for the Deluxe Coaching Package, you will schedule two one-hour Skype sessions with me within the month of October. Ideally, one session would be in the first week of October and one would be towards the end of the month. You will also have four weekly coaching emails with me.
I work intuitively and organically—weaving between different roles based on what is necessary for the work.
Guide—making the journey into the gold of your inner truth (warts and all) as fun, engaging, aesthetic and inspiring as possible.
Coach—encouraging you to trust your own intuitive voice and callings.
Counselor—offering my intuitive skills you when you feel stuck or lost.
Teacher—teaching the skills necessary to make positive changes in your life that support your soul's needs and desires.
Mentor—using personal examples of my own journey to help light up your own truths.
Editor—sometimes what's needed is a critique, constructive feedback or even editing. I am available for that if needed.
FIRST SESSION
In our first session I will help you identify your creative dreams & goals as well as what keeps you stuck or blocked.
Together, we will explore and develop your goals, themes of your work, and working habits that will help you make better use of your own wellspring of inspiration, creativity and artistic integrity.
SECOND SESSION
I will help you identify any struggles, questions, discoveries that came up for you through out the course. And respond with insight, or suggestions to address your concerns and curiosities.
Together, we will create a basic plan in how you will move forward on a creative project of your choice.
The sessions will be recorded, so that you can review any insights or ideas that came up during our session.
ADDITIONAL SESSIONS
If our work together was helpful to you and you want to continue our work together after October, you will have that option of scheduling a regular creativity session with me.
EMAIL COACHING
At the beginning of each week, I will send you an email with a few questions to help you identify any issues, concerns or questions that have come for you about your creative process, dreams or projects. You can respond with your check-in, as well as any questions that you need help with. I will respond with further questions to deepen your process, feedback or advice to help deepen your process.
QUESTIONS ABOUT COACHING?
31 DAYS OF DEEP CREATIVITY
IS NOW AVAILABLE FOR PURCHASE
THE LAST DAY YOU CAN SIGN UP:
SEPTEMBER 30th AT MIDNIGHT
THE COURSE STARTS:
TUESDAY, OCTOBER 1st
AND ENDS:
THURSDAY, OCTOBER 31st
This course is for blocked artists, slow bloomers & sensitive souls.
This course is for dreamers, poets, image-makers & performers.
Or anyone who feels stuck, depressed, anxious, or creatively dead.
This course is for you if you're worried it's too late to live your dreams and you want another chance to listen to your heart.
Are you longing
for a deeper connection and understanding of yourself
to voice your truth and express your wildness
to look within, with profound love
to find inner guidance, ideas & inspiration
to practice revolutionary self-love
to rediscover your heart's desires
to burst out of the fear that keeps you quiet
to face and heal what holds you back?
Do you dream of returning to that creative project that has been on the backburner for too long?
Are you ready to reawaken your authentic creative voice?
Do you desire to join a community of sensitive souls?
Then this course is for you.
For the 31 Days of October you will:
Receive an intensive opportunity to go deeply within yourself to unearth your greatest passions, longings, callings.

Identify, understand and work with the specific blocks you have to your creativity and artistic expression

Be supported by Zoë as well as other class members

Be inspired daily with prompts, guides, tools and feedback

Clarify your creative dreams and goals so that you have a plan of action at the end of the month

Understand the areas in your creative life that need attention, whether it's skill building, confidence-building, coping with anxiety and the inner critic or time management and receive guidance in how to strengthen these areas

Learn unique & valuable tools that you can use for the rest of your life to drop in to your always available inner resources: creativity, curiosity, compassion and consciousness
My mission is that by the end of the month, you feel inspired, with a clear plan of action moving forward and committed to your true self, to all your selves and your most authentic & passionate creativity.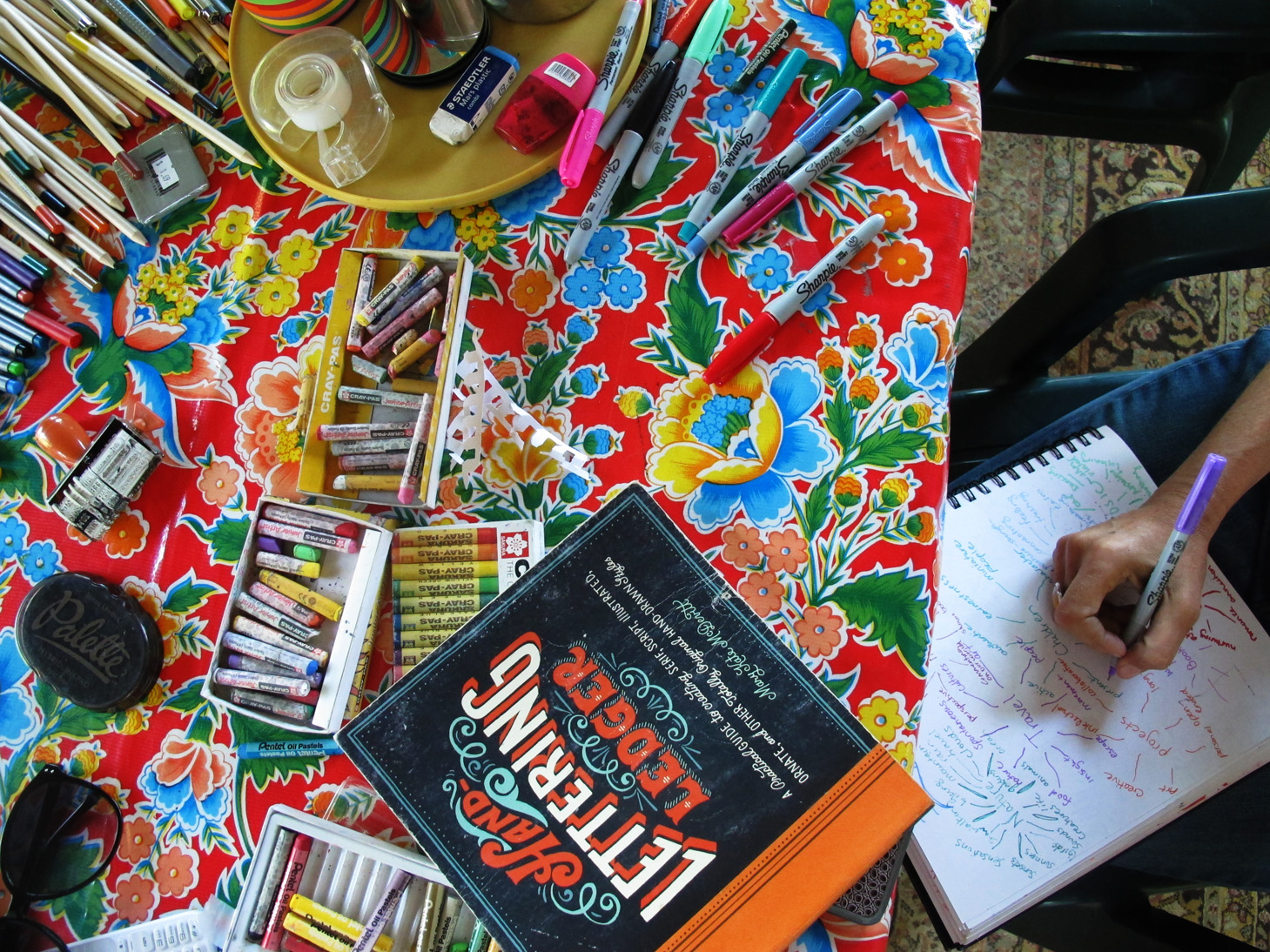 CUATRO VIENTOS, TODOS SANTOS
Seven years ago, I created Art Journal Lab, a creative personal development course that combined my passions for journaling, art therapy, design, drawing, creativity coaching, spiritual philosophy, meditation & visualization.
I've been teaching this course ever since in Todos Santos, Baja California Sur, Mexico.
In that sacred space, I have guided the participants with meditation, imagine exercises, creative assignments and prompts. We have accessed memories, dreams, callings, worked through difficult emotions, contacted different parts of ourselves, drawn, written, collaged, painted, brainstormed and discussed.
And now, for the first time, I am bringing my course material, which combines my extensive background as an expressive arts therapist, creativity coach, arts educator, multi-creative artist and lifelong journal writer, online.
DEPRESSION & ANXIETY
Five years ago, I was also suffering from postpartum depression. My son was three and I felt disconnected from the person I had been before I became a mom. I had always had big dreams, but I could no longer access them. I had stopped writing and making music. I had stopped dancing and singing. I was isolated and stuck. I felt like a robot slave to an imagined idea of how I was supposed to be as a mother. I felt constant anxiety and inner pressure to be a perfect mom, and I always felt like I was failing.
Then I realized something was missing. My authentic self. I wasn't failing as a mom, I was failing my true self. I was disempowered and silent, my true voice felt like it was trapped inside a box.
I was working as wedding coordinator instead of making use of my Masters in psychology. Instead of serving people who were suffering, children with little access to the arts, or blocked artists, I was serving entitled brides. At night, after my son went to sleep, instead of feeding my creative self, I would check out and watch old sitcoms until it was time for bed.
HAPPINESS PROJECT
Then, one day my brother lent me the book The Happiness Project by Gretchen Rubin, and I was immediately inspired. After realizing her life was missing that spark of joy that comes from living life authentically from a place of self-knowing, Gretchen set on a year long journey to improve her happiness by treating her life like a creative project. Blending research, art and science she systematically changed her life.
And then I knew it was time for me to create my own happiness project.
I decided that my happiness project would be to start blogging and continue everyday for a year.
That year of creating and sharing everyday changed my life completely. The process of listening to my inner voices and expressing daily reawakened my childhood dreams, and my passion for helping others. The more I poured into my blog, the more my life flowed with love, enthusiasm and creativity. The more I poured into my life, the more my blog flowed with purpose and meaning. I felt like an inspiration machine. I felt unstoppable. I finally felt like I was the artist I always wanted to be.
Someone who took herself less seriously and her work more seriously.
INTEGRATING ALL MY SELVES
The process of blogging every day worked for me because it was the perfect balance of structure and freedom. The structure: the daily practice of posting words and images, and the freedom: creating anything that I felt like creating.
This experience helped me to see that my true mission in life was not a particular type of success, but rather, simply to be myself, to be all my selves and to put all my selves out there (or at least many of them) so that I could create community, inspire and help people heal and love themselves.
For the first time, I was able to fully embrace my true multipassionate self. The blog and my art journaling process became a space of integration—integrating my past, present and future. Integrating different identities — the artist, the thinker, the performer, the teacher, the healer. And integrating different parts of the inner self — the child, the critic, the higher self, the revolutionary, the queen. The more expression I allowed, the more my creativity and compassion flowed.
LIVING LIFE AS ART
I began teaching Art Journal Lab, bringing all that I had learned from my years as an arts educator, artist, spiritual seeker & therapist. I experimented with techniques, ideas, forms and spaces. It was a lab for my students, but it was also a lab for me to develop my methodology and philosophy.
And now, five years later, I am truly living my dream, which is to live life as art and to bring the arts to people on a daily basis, to help people uncover their soul's purpose and to lead them into loving all of their selves.
Every day, I write, sing, dance, teach, heal and connect with myself and others in my family and community. I create from a place of deep love and understanding of my soul.
In addition to Art Journal Lab, I also created Dance Lab, formed a rock band, Zoë & The Mischief and am a co-creator of Women Awakening, an international women's summit in Todos Santos, where I have given 3 interactive talks, How To Be Yourself By Loving All Your Selves, The Power of Owning Your Shadow and with Holly Mae Haddock, Your Magical Voice: Singing and Songwriting For All. I am currently recording my songs and writing a genre-defying multimedia book that shares my story, struggles, and philosophy.
And now, I am truly thrilled to bring the hopeful lessons I have learned from being a person who suffers from anxiety, depression and low self esteem to other people who struggle. I am excited to share the methodologies I have developed as an arts educator, the techniques I have learned in my training as an expressive arts therapist as well as my lifelong experience as an artist, writer & performer.
I have poured my passion and experience into a course to help others commit to their creative dreams, work through the resistances that emerge and discover the invaluable and inspirational journey of self-actualization. I hope you will join me on an incredible adventure within your soul.
If you want to read more about my story or my creative projects:
Are you ready to join me
on this journey towards wholeness?
Towards your creativity
Towards your art
Towards your dreams
Towards being all your selves
I can't guarantee that it will be easy or painless.
But I can tell you it will be illuminating,
creative & inspiring.
It is time for you to start living your soul's purpose.

Don't take my word for it.
Check out these true stories from students who have taken my creativity courses & challenges.
DISCOVERED HOW TO LOVE ALL HER SELVES
"I am so grateful to Zoë Dearborn. Her creative work and shared practices have had a tremendous impact in leading me along my journey to self-discovery, self-expansion and self-love. With Zoë's prompting through her creative work, in Art Journal Lab and through music and movement in your Dance Lab, I have opened doors in my life and in my psyche that I would have otherwise left closed. Zoë doesn't just teach what it means to 'OPEN', she guides you into allowing and discovering what is on the other side, which ultimately is discovering and LOVING the shit out of our Selves. ALL of them! With Zoë, I have begun a beautiful journey of intimacy with ALL of Me.
Thank you Zoë for sharing all that is beautifully, uniquely and fucking brilliantly YOU!! Thank you for Dreaming and Believing and Loving BIG and for showing me that mischief makes this crazy ride of a life a lot sweeter. I love your motto: "Heal the Individual; evolve the collective." That is exactly what you are doing! Mil Gracias!"
FINALLY COMMITTED TO HER DEEPEST PASSION: ART
Testimonial: Lona Fay Feldman
"Monday March 4th, 2013 was my first encounter with a world totally unknown to me. I attended Zoë's Journaling in Todos Santos. She wanted me to make a list: Self Care For Lona Faye. She asked me to write about: Who am I and where will the rest of my life lead me? We closed our eyes and listened to all the sounds we could identify, meditated, and best of all, created art. I have never missed a class since. Five years later I am a different person and oh so much more. My art has flourished, my heart has opened, my journal is full of keep sakes and art and quotes. And best of all I write for myself every day, and appreciate myself and my creativity. There is a lot more to journaling than "just the facts", .....I have even taken up the violin. Thank you Zoe. I love you."
FOUND DEEP ACCESS TO HER SUBCONSCIOUS
Testimonial: Emily Gable
DISCOVERED HER PASSION FOR DRAWING & ART THERAPY
Testimonial: Leah
"I participated in a 30-day art journal challenge facilitated online by the extraordinary Zoë, and it was probably the most profound creative and therapeutic experience I've ever had. Every day she offered a new prompt for us to use in our journalling, and each prompt was challenging and thoughtful, building on the days before. I found myself exploring a new expressive medium. I'd always thought of myself as a writer, but in the month I spent in her journal group, I began to draw every day. This was completely unexpected, but Zoë helped me to take the risk and get in touch with a whole new part of myself.
I felt that I could fully trust Zoë with my journey; she has a genuinely rare gift for encouraging (always with great care and kindness) honest self-reflection and self-insight. Her questions and comments on our process often led me to a new level of clarity, and she offered real support for moments of anxiety or self-doubt (and I did have some of those!). She created a safe place, where I felt free to share the pages of a very personal art journal. The give-and-take in the group was, through Zoë's example, so generous and joyful. Zoë is a creative catalyst! Her guidance has been honestly life-changing for me."
Q: Do I have to do the lessons at a certain time?
A: You do not have to do the downloads at a certain time, but it is highly recommended that you complete each lesson before the following week. Lessons will be placed on my Website on Sundays and will available to be downloaded until the following sunday.
Q: Do I have to create everyday?
A: You do not HAVE to create everday, but I highly recommend that you commit to a daily practice for the duration of the month. You will get much more out of this if you are able to at least commit to 15 minutes of a basic arts practice, such as completing the prompts, or coming up with your own practice that suits your needs and interests.
Q: What if I am not a "real" artist?
A: This is a tough question, because on the one hand, I believe that we are all artists, and that we are all creative and are meant to make some form of art whether we are trained professionals or not. On the other hand, I understand the imposter syndrome, and that it can be very difficult to claim the title of Artist. Whether you identify as an artist or not, if you are interested in being more creative and authentic in your life, I believe you can get something valuable from this intensive.
Q: I am still not sure if I want to commit to this. I have more unanswered questions. Can I contact you?
A: Yes, absolutely. If you aren't sure if this intensive is for you, please feel free to send me an email with any additional questions or concerns.
Okay, I am ready to commit to my creative dreams and see where they take me...